As part of a longer term project to learn Bayesian Statistics, I'm currently reading Bayesian Data Analysis, 3rd Edition by Andrew Gelman, John Carlin, Hal Stern, David Dunson, Aki Vehtari, and Donald Rubin, commonly known as BDA3. Although I've been using Bayesian statistics and probabilistic programming languages, like PyMC3, in projects for the last year or so, this book forces me to go beyond a pure practioner's approach to modeling, while still delivering very practical value.
Below are a few take aways from the earlier chapters in the book I found interesting. They are meant to hopefully inspire others to learn about Bayesian statistics, without trying to be overly formal about the math. If something doesn't look 100% to the trained mathematicians in the room, please let me know, or just squint a little harder. ;)
We'll cover:
Some common conjugate distributions
An example of the Dirichlet-Multinomial distribution using dice rolls
Two examples involing polling data from BDA3
Conjugate Distributions¶
In Chapter 2 of the book, the authors introduce several choices for prior probability distributions, along with the concept of conjugate distributions in section 2.4.
From Wikipedia
In Bayesian probability theory, if the posterior distributions p(θ | x) are in the same probability distribution family as the prior probability distribution p(θ), the prior and posterior are then called conjugate distributions, and the prior is called a conjugate prior for the likelihood function
John Cook has this helpful diagram on his website that shows some common families of conjugate distributions: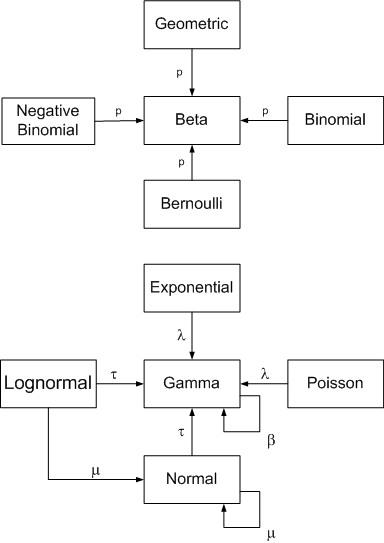 Conjugate distributions are a very important concept in probability theory, owing to a large degree to some nice mathematical properties that make computing the posteriors more tractable. Even with increasingly better computational tools, such as MCMC, models based on conjugate distributions are advantageous.
Beta-Binomial¶
One of the better known examples of conjugate distributions is the Beta-Binomial distribution, which is often used to model series of coin flips (the ever present topic in posts about probability). While the $Binomial$ distribution represents the probability of success in a series of Bernoulli trials, the Beta distribution here represents the prior probability distribtution of the probability of success for each trial. Thus, the probability $p$ of a coin landing on head is modeled to be $Beta$ distributed (with parameters $\alpha$ and $\beta$), while the likelihood of heads and tails is assumed to follow a $Binomial$ distribution with parameters $n$ (representing the number of flips) and the $Beta$ distributed $p$, thus creating the link.
$$p \sim Beta(\alpha, \beta)$$$$y \sim Binomial(n, p)$$
Gamma-Poisson¶
Another often-used conjugate distribution is the Gamma-Poisson distribution, so named because the rate parameter $\lambda$ that parameterizes the Poisson distributed is modeled as a Gamma distribution: $$\lambda \sim Gamma(k, \theta)$$ $$y \sim Poisson(\lambda)$$
While the discrete $Poisson$ distributed is often used in applications of count data, such as store customers, eCommerce orders, website visits, the $Gamma$ distribution serves as a useful distribution to model the rate at which these events occur ($\lambda$), since the $Gamma$ distribution models positive continuous values only but is otherwise quite flexible:
Dirichlet-Multinomial¶
A perhaps more interesting and seemingly less talked-about example of conjugate distributions is the Dirichlet-Multinomial distribution, introduced in chapter 3 of BDA3.
One way of think about the $Dirichlet-Multinomial$ distribution is that while the $Multinomial$ (-> multiple choices) distribution is a generalization of the $Binomial$ distribution (-> binary choice), the $Dirichlet$ distribution is a generalization of the $Beta$ distribution. That is, while the $Beta$ distribution models the probability of a single probability $p$, the $Dirichlet$ models the probabilities of multiple, mutually exclusive choices, parameterized by $a$ which is referred to as the concentration parameter and represents the weights for each choice (we'll see more on that later).
In other words, think coins for $Beta-Binomial$ and dice for $Dirichlet-Multinomial$.
$$\theta \sim Dirichlet(a)$$$$y \sim Multinomial(n, \theta)$$
In the wild, we might encounter the Dirichlet distribution these days mostly in the context of topic modeling in natural language processing, where it's commonly used as part of a Latent Dirichlet Allocation (or LDA) model, which is fancy way of saying we're trying to figure out the probability of an article belonging to a certain topic given its text.
However, for our purposes, let's look at the Dirichlet-Multinomial in the context of multiple choices, and let's start by throwing dice as a motivating example: