Git and Github Extended¶
Github¶
GitHub is a collaborative code hosting site built on top of the git distributed version control system (DVCS) (refer to Chapter 4.2 for more a more detailed explanation on DVCS). GitHub reposes on a "fork & pull" model in which developers create their own copy of a repository that they then submit via a pull request. With the pull request, developers want the project master to pull their changes into the main branch.
In addition to code hosting, collaborative code reviewing, and integrated issue tracking, GitHub has integrated social features as well. Users are able to subscribe to information by "watching" projects and "following" users. Some users can award stars to codes belonging to other users, which essentially has the same effect as "liking" a post on Facebook. Users also have profiles, that can be populated with their personal information, and contain their recent activity on the site. With over 57 million repositories hosted, GitHub is currently the largest code hosting site in the world.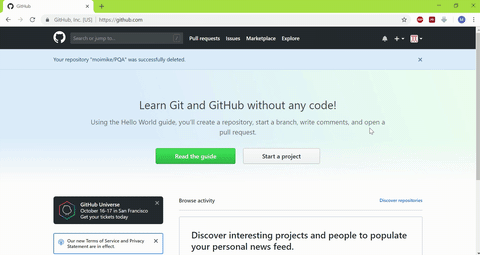 Version Control Systems¶
People might need to collaborate with developers on other systems. Version control systems are one way to do it. Version Control Systems record changes to a file over time so that that it is possible to recall specific versions later. In other words, version control systems allow one to revert selected files or even the entire project back to a previous state. Version Control Systems also allow one to compare changes over time, see who last modified something, who introduced an issue and when. We typically make a distinction between centralised and distributed version control systems.
Centralised Version Control System (CVCS)¶
In centralized version control systems, each user typically gets his or her own working copy, but there is only one central repository, often located on remote server. As soon as one commits, it is possible for the other developers to update and to see the changes. To check who made the changes and what the change were, users need to update the centralized server after executing a commit. The centralized server contains all the versioned files and number of developers that checked out files from that central place.
However, there are downsides to this. Firstly, the most obvious problem is the single point of failure that the centralized server represents. If the server goes down, during that duration nobody can collaborate or save changes. Secondly, another major issue is the hard disk. If one has the entire history saved in one local folder, he risks to lose everthing if the system fails or crashes.
Distributed Version Control Systems (DVCS)¶
In distributed version control systems, users get their own repository and working copy. Unlike a centralized version control system where working on a single server presents a major risk for the project development, distributed version systems stores in each users' local repository the full history of the file. Thus, if any server fails, edited repositories may be copied and restored back on the server.
To view modifications in a file, there are 4 steps one needs to execute. First, you will need to make a commit. At this stage, others still have no access to the changes made until you push your changes to the central repository. When you make the update, do not get others' changes unless you have first pulled those changes into your repository. Since the system is distributed, e.g. each developer gets their own local repository, nearly every operation can be done offline at incredible speed. This means that you can do commits, branches, merges, etc. file annotation entirely offline and generally instantly.
Advantages and Disadvantages of CVCS and DVCS¶
| Features | DVCS | CVCS |
| --- | --- | --- |
| Users can work productively when not connected to a network | Yes | No |
| Common operations such as commits, reverting changes, etc. are faster | Yes | No |
| Users can use the changes they do not want to publish | Yes | No |
| Initial checkout of a repository is slower (since all branches have to be copied in each local repository) | No | Yes |
| Additional storage required for every user to have a complete copy of the codebase history | Yes | No |
| Working copies are effectively remote backups | Yes | No |
| Various development models can be used | Yes | No |
| Common operations such as commits, reverting changes, etc. are faster | Yes | No |
Installing Git¶
Installing Git is not complicated. Access the homepage and look for the rubrique "Download". You then have to select the OS you are working in.
Git Basics¶
We previously introduced Git as a distributed version control system. This means that it allows users to efficiently collaborate on a certain project. It is also able to perform actions extremely fast as Git only needs to access the hard drive. With all this information, you may still wonder what the expectations of Git developers were when developing this platform. We list 5 important expectations:
Speed.
Simple design.
Strong support for non-linear development.
Fully distributed.
Able to handle large projects efficiently.
Speed¶
Having a tool capable to rapidly take account of modifications in the file makes the collaboration easier. Compared to other systems, Git is often praised for its speed. The major difference between Git and any other VCS is the way Git thinks about data. Most systems view data of a set of files and changes made to each file. However, Git thinks about information as snapshot. When a developer changes a file, Git does not store again the file. Rather, it looks up the file stored in your computer and compares it with an updated file. The difference between the old and new file is the change. By then, Git does not have to ask a remote server to do it what drastically increases its speed.

Simple design¶
For many Git beginners, Git is a difficult to apprehend. And in fact, it is, especially if you are a windows user since Git provides its best support for Linux, then Mac. You will have to learn and understand a lof of new notions and definitions. However, after doing this, you will probably have a better understanding of Git functions and Git mechanisms. A basic knowledge of git functions is also requiered. The command syntax is also complex and sometimes unusual names. However, once you have mastered it, you should realise that Git is a quite user-friendly program that allows you to efficiently structure your project.
Strong support for non-linear development (branches)¶
A central feature of Git is branching. In Git, you can create a new local branch for everything you work on. The new local branch is a minor branch that is connected to the mainline, aka master branch. For each feature, each idea or bugfix,you can easily create a new branch, do a few commits on that branch and then merge it into your master branch or throw it away. You don't have to mess up the master branch just to save or test your experimental ideas.
Fully distributed¶
In this context, fully distributed means that every developer has their own repository that has the entire commit history of the project. A central property in distributed version control systems.
Able to handle large projects efficiently¶
Git has some extensive functions to deal with large repositories with a very long history. Two solutions to deal with large repositories are presented by the Atlassian blog:
The git shallow clone: Instead of loading the whole history of the repository, we decide to pull down the latest n commits of the history.
The git filter: The command allows you to reduce branch complexity by deleting or modyfing some branches in the tree structure.
Git Characteristics¶
Git Has Integrity¶
It's impossible to change the contents of any file or directory without Git detecting it. If a file is lost or information has been lost in a file, if a file get corrupted or if any change has happened, Git is able to detect it. This is due to the fact that Git every information in Git has a correspoding hash value.
Git Generally Only Adds Data¶
When you do actions in Git, nearly all of them only add data to the Git database. After you commit a snapshot into Git, it is very difficult to lose the information.
The Three States¶
You will ocassionaly hear about "the three stages" in Git. This simply refers to the possible stages of the file, e.g. commited, modified or staged.