Reccurent Neural Networks Revisited¶
The recurrent neural network architecture from last time looked something like this: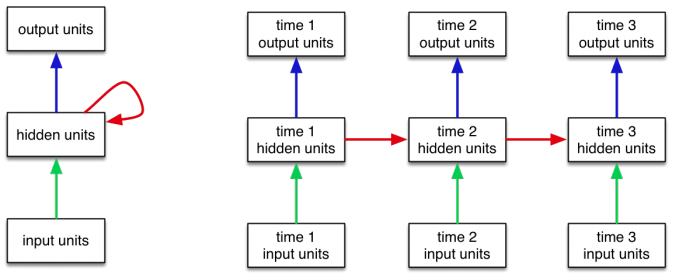 The input sequence is broken down into tokens. We could choose whether to tokenize based on words, or based on characters. The representation of each token (GloVe or one-hot) is processed by the RNN one step at a time to update the hidden (or context) state.
In a predictive RNN, the value of the hidden states is a representation of all the text that was processed thus far. Similarly, in a generative RNN, The value of the hidden state will be a representation of all the text that still needs to be generated. We will use this hidden state to produce the sequence, one token at a time.
Similar to last class we will break up the problem of generating text to generating one token at a time.
We will do so with the help of two functions:
We need to be able to generate the next token, given the current hidden state. In practice, we get a probability distribution over the next token, and sample from that probability distribution.
We need to be able to update the hidden state somehow. To do so, we need two piece of information: the old hidden state, and the actual token that was generated in the previous step. The actual token generated will inform the subsequent tokens.
We will repeat both functions until a special "END OF SEQUENCE" token is generated. Here is a pictorial representation of what we will do: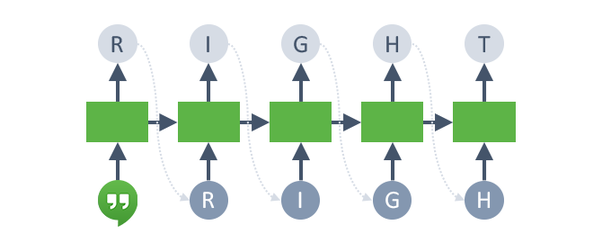 Note that there are several tricky things that we will have to figure out. For example, how do we actually sample the actual token from the probability distribution over tokens? What would we do during training, and how might that be different from during testing/evaluation? We will answer those questions as we implement the RNN.
For now, let's start with our training data.
The training set we use is a collection of "happy" tweets from the Sentiment140 data set. We will only use tweets that are 140 characters or shorter, and tweets that contains more than just a URL. Since tweets often contain creative spelling and numbers, and upper vs lower case characters are read very differently, we will use a character-level RNN.